Like your sunrises with yoga rather than tequila? Then this is going to be your kind of place…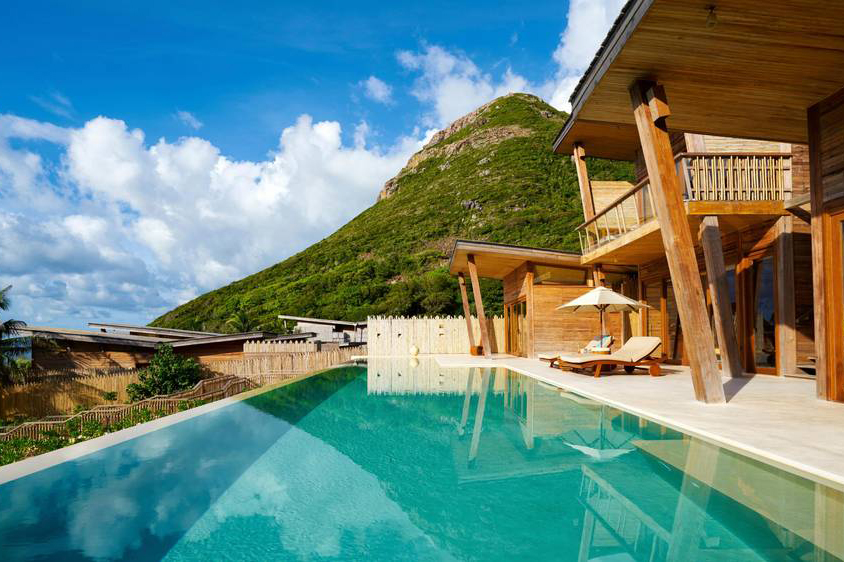 Where is it?
Six Senses is on the tiny Vietnamese island of Con Son, the only inhabited island of the Con Dao archipelago which lies off the country's south coast. It's only a 45-minute flight from Ho Chi Minh City but its remote and undeveloped landscape makes it feel like you've travelled much further. Protected for decades as a national park, there's pristine white sand beaches – including the spectacular one that Six Senses sits on – jungle-covered mountains, and a sea brimming with marine life such as turtles and barracudas. Despite its natural rugged beauty, the island harbours a dark past when it was home to many French-run prisons that interred independence fighters before and during the Vietnam war. The crumbling old prison buildings still remain dotted around Con Son town and can be visited along with a cemetery built for the victims.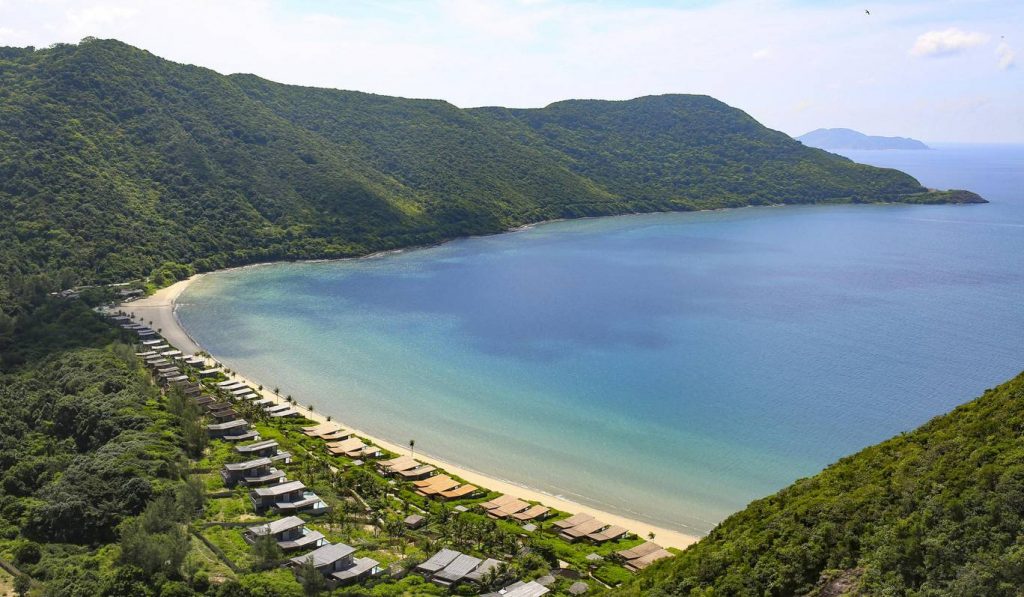 Six Senses is on the tiny Vietnamese island of Con Son (Six Senses Con Dao)
Style
There's no central building or lobby to Six Senses Con Dao. Instead, at the entrance is a collection of small wooden buildings designed to resemble a classic Vietnamese fishing village, albeit quite a luxurious one. Here you'll find a bar with leather swings for seats, a boutique shop, and one of the property's two restaurants, an open-air kitchen serving traditional food. The swish villas which make up the majority of the property are nestled into a long stretch of hillside that's perched just above the beach. With wood panelled exteriors covered in lush green foliage, the villas really do blend into their surroundings and it all looks quite low-key from the outside. On the inside of course, it's a different story…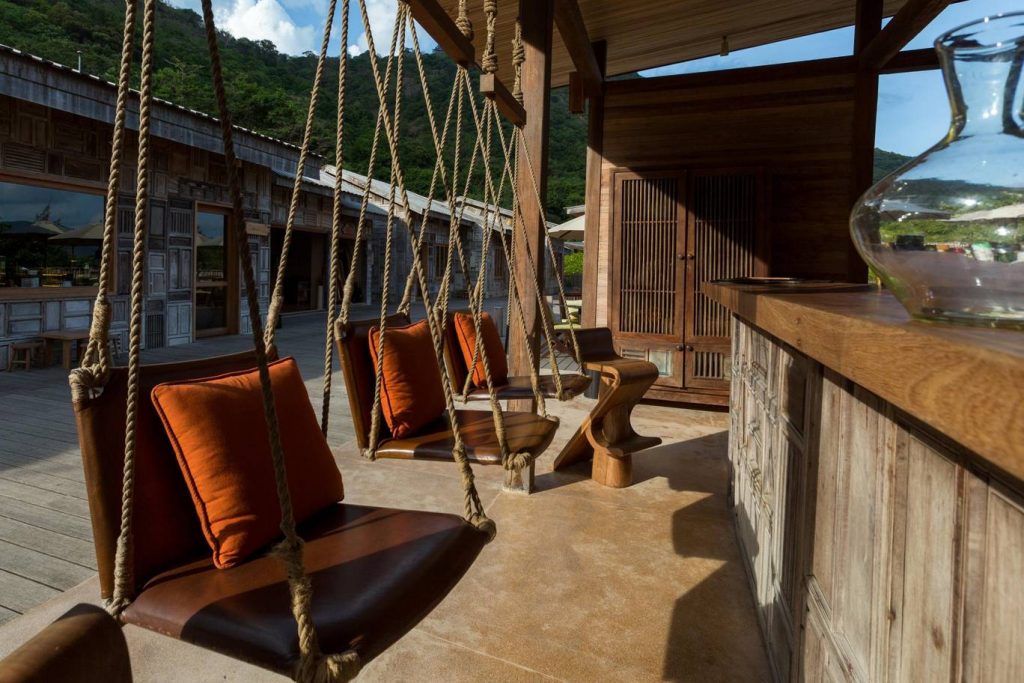 Elephant Bar (Six Senses Con Dao)
Facilities
At the heart of the Six Senses experience is the incredible spa. Making the most of its spectacular setting backdropped by the Lo Voi mountains, the spa is surrounded by tropical gardens and features both outdoor and indoor treatment rooms and an open-air yoga studio where free classes start at 7:30 every morning. Every kind of treatment imaginable is on offer, from pain barrier-testing Thai massages to relaxing body scrubs, and at least one visit here during your stay is highly recommended.
It's not all zen and wellness though – there's plenty of fun to be had here too, from the open-air cinema with free popcorn to the ping pong table and beachside pool. There's also a whole host of activities, water sports, and tours to choose from including boat trips to the neighbouring uninhabited islands. Cooking classes are a fun way to enjoy dinner, with one of the hotel's chefs demonstrating how to make local specialties such as Ban Xeo (seafood pancakes) and fish stew clay pots.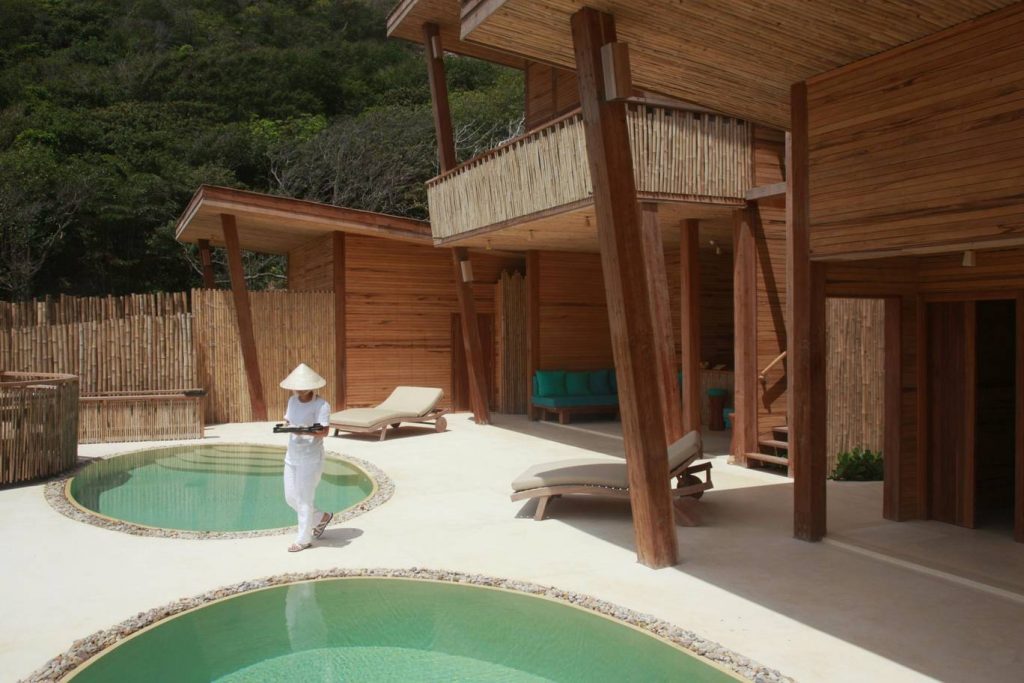 The spa area at (Six Senses Con Dao)
Food & Drink
If you'd rather let someone else do all the cooking of course then you can try these and many other Vietnamese dishes at the market restaurant, located within the village area. Next door there's also an Italian deli which wouldn't be that exciting except for the fact that it gives out free homemade ice cream every day between 11am and 4pm.
Down at the literally-named By the Beach restaurant there's more of a French-Asian fusion menu with locally caught seafood and vegetables grown in the hotel's organic gardens, backgrounded by the crashing waves. This is also the scene for an exceptionally good daily breakfast set up which features a Vietnamese street food section, fruits, pastries, eggs and anything else you could wish for. There's even a couple of therapists on hand from the spa to give quick shoulder massages – not a bad start to the day.
Which room?
Each of the villas, which range from one to four bedrooms, boast a private infinity pool and sea views. The ocean front villas have a slight edge with staircases that lead right down to the beach but whichever villa you're in you won't be far from the sand. Inside the beach shack-style villas, it's all sleek modern luxury with a big king size bed in the middle of an open plan space, a lounge area with TV and Bose speakers, and a mini bar that includes a separate wine fridge. In the bathroom there's a huge tub, plus an outdoor shower area. It's really all about the views and setting, however, and all villas have double height glass sliding doors to make the most of the location.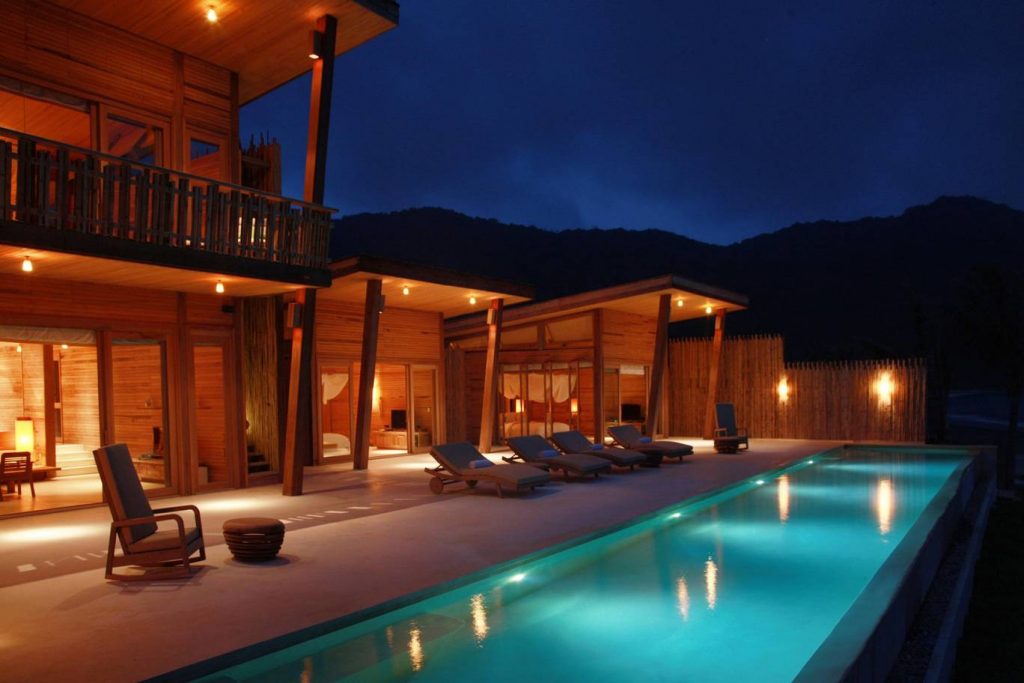 Four-bedroom ocean view villa with provate infinity pool (Six Senses Con Dao)
What to Instagram
Maximum envy can be induced in your friends and followers with a snap of your sunny terrace with private pool in the foreground followed by the white sand below and blue sea in the distance. Yep, that should do it.
Best for?
With the range of villa sizes, both couples and families are well catered for, but Six Senses Con Dao is best suited to those looking for a true escape from the kind of crowds you might find on Thailand's islands. If you like your sunrises with yoga rather than tequila, then this is going to be your kind of place.
Details
One-bedroom villas at Six Senses Con Dao start at £515 a night including breakfast and airport transfers.