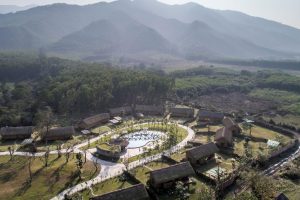 Health and wellness-focused hospitality brand Fusion has teamed up with Alba Vietnam to operate two of the company's hotels.
The resorts – Alba Wellness Hue and Thanh Tan Hot Springs Hotel – are both situated in the foothills of the Truong Son Mountains on the site of a mineral-rich natural spring which has been called a "Holy Grail".
Designed by architects Romain Duval, Anh Vu, and Minh Pham, Alba Hue features a number of leisure and well-being amenities, including a yoga studio, organic farm, spa, and Onsen bathing centre.
The nearby Thanh Tan Resort comprises a pool, gym, and thermal bath.
Speaking on the merger, Fusion's CEO, Attila Erda said: "The resort, the hotel, and the surrounding natural landscapes are absolutely stunning, and the unmatched facilities and services make it a very special place indeed.
"With the combined skills and experience of our two families, I think we can only improve on what is already an amazing project."
Fusion, which currently manages five beachfront resorts and urban hotels in Vietnam, is expected to open three additional venues in 2019.
Source:  Health Club Management