Turkish Airlines: a name that nowadays immediately is associated with rewards, best airline of Europe 2012, the best catering services in economy class 2010, the best economy class seat 2011 among others.
The airline is on its way to become the biggest airline catering for a diversified and global clientele, flying to 99 countries, with 190 destinations.
"There are many different reasons as for how we managed to become so big in the past 10 years", said Mr Ahmet Akpinar, general manager of Turkish Airlines for Vietnam. "Our costs are relatively low compared to other European legacy companies, largely because our wages are not as high as in other European countries; then the geographical position: we're right there in the middle, between the East, the West, the North and the South. We are for instance the biggest company in Africa at the moment. Last but not least, our food and service are top class. These are all things that customers value."
Turkey has gone through rough times in its history, but the character of its people has always enabled them to revive and renovate. "We strongly differ from Europeans on that: when there's a crisis, we strive but we also see the opportunities for developing something new. If you look at our history, we bought most of our aircrafts when we were going through an economic crisis. That's the biggest difference with other  European companies: there is a problem, we look at possible solutions and solve the problem, we think about the protocol later; if business is stalling, we take the opportunity to develop the company and that's clearly been a successful recipe."
Mr Akpinar arrived to Vietnam in October 2012 from Turkey; he said that the intention of Turkish Airlines is to stay and grow strong on the Asian market; concerning Vietnam, business and leisure traffic are increasing rapidly, "it is sometimes difficult to even find a seat on the planes to and from Vietnam", he said.
"The news is that we're considering the introduction of a direct flight to Saigon. Now there is a technical stop in Bangkok when flying to and from Istanbul, which of course is a nuisance for our customers. We have ordered 220 planes more so in the near future we can increase our capacity and we will be able to fly straight", said Mr Akpinar.
The whole travel sector is growing here, although Vietnam for the most remains a hidden treasure, due to a couple of reasons: "It's impossible to find cheap flights to Vietnam and there are some visa restrictions, limiting a traveller from just taking a bag and coming here", said Mr Akpinar.
Furthermore, Vietnam needs to improve the offer of facilities and services for the leisure market. "Thailand is still very popular because it is so easy to go there: easy to find cheap flights, easy to find cheap hotels and easy to find decent service and facilities for a relatively low price."
Seen what Vietnam has to offer, Mr Akpinar thinks that the country is trying to find a balance between what it can offer to tourists while trying to maintain its own identity, not becoming too touristic, which would otherwise make it another Thailand. "Of course, these kind of strategies require more time", he said.
Based on his data, Mr Akpinar shared that for now Vietnam is really popular among Scandinavians for leisure, Russians for leisure and business, Germany and France especially for business, Korea and Japan for business, the last two being the strongest communities here.
The most common destinations for Turkish Airlines from Vietnam are of course the United States, with the biggest Vietnamese community abroad, then France and Italy, followed by Turkey itself and Israel.
Turkish Airlines offers a high quality service,it has a huge network and offers some exclusive features on certain planes, such as free wi-fi or online TV.
These and other innovative features are to be found in all the coming new planes.
For more information about Turkish Airlines, please go to http://www.turkishairlines.com/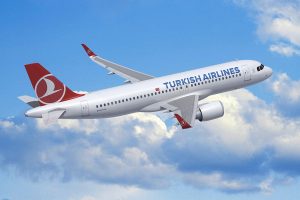 (Turkish Airlines)